2015 Cajun Music Festival Honoree
JOSEPH HILTON PETE BERGERON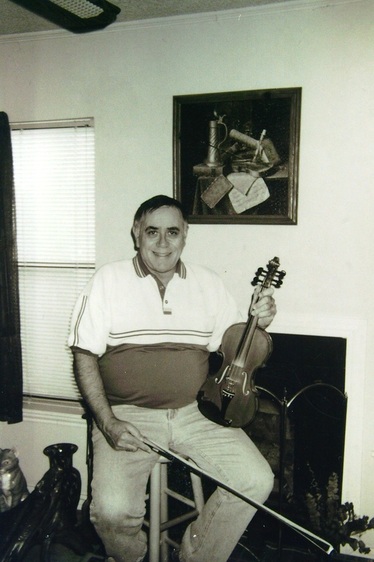 JOSEPH HILTON PETE BERGERON

Born: Eunice, La. November 09, 1939.

Instrument: fiddle, vocals, took lessons with Mitchell Reed.
He started singing professionally at 15. He worked as a singer with Nelson Bergeron and the Salty Dogs-1955. In 1956 he formed with his brother Nelson, Pete Marlow and The Rhythm Kings. Recordings:(45rpm) Jeu de Cartes, (Bee)-1986 with Clary Johnson, (CD) Une Deuxieme Chance, (Swallow)-1995 with Helen Boudreaux, Big Red Box, (Bad Weather)-2001 with T-Boy Simon and the Cajun Twisters, Johnny Guinn et mes amis, (Cajun Shocka)-2004. He worked with Ronald Goodreau, Grant Clement, Nelson Bergeron, Jay Doucet, Earl McFarland, Danny LeGros, John Smith, Henry LeBlanc, Richard Parsons, Tommy Regan, Gerald Miller, Helen Boudreaux, Russell Quibodeaux, Howard Noel, Sr., Howard Noel, Jr., Jean Savoie, Dee Savoie, T-Boy Simon, Lee Abshire, Greogry Mouton, Sr., Greogry Mouton, Jr., Marty Pryor, Lee Touchet, Tommy Guidry, Curtis Breaux, Gurvais Matte, Nathan Menard, Nelon Shorty Sonnier, Autrey Colligan, Ray Lavergne, Dwyne La Vergne, Brad Venable, Vincent Romero, Errol Jenkins, Errol Guilbeaux and Morris Newman and Louisiana Heritage formerly the Old Timers Band.

Awards: 1989-CFMA Promoter of Cajun Culture, 1988-Carencro Lion's Club Appreciation Award, 1993- CFMA President's Award for his work as founder of the Le Cajun@ Music Awards, 1990-CFMA Lake Charles Chapter Hall of Fame, 1992-Who's Who Worldwide The Business Leaders Internationally,1992- Top Twenty Events in the Southwest presented to Pete Bergeron for the Le Cajun Music Awards & Festival by the Southwest Tourism Society. 1995-Louisiana Hall of Fame, 1996-Cajun Radio D.J. of the Year presented by the Kaplan, La., Knights of Columbus Council #2913, 1999-CFMA Continuing Contribution to Cajun Music, 2001-Living Legends Award presented by the Acadian Museum of Erath, La., 2001-inducted in the CFMA Hall of Fame, 2007- Vermilionville's Acadian Culture Preservation Award, 2007-Jo-el Sonnier and Friends Certificate of Outstanding Achievement for his work in Cajun Radio Broadcasting, 2007-Jo-el Sonnier and Friends Greatest Cajun Music DJ Award, 2007-CFMA Le Cajun Award for co-writer of Song of The Year with Kevin Naquin, 2012-Tee Mamou Iota Folklife Festival for 23 years of dedicated service as Master of Ceremonies for the Iota Mardi Gras Festival.

He started his musical career at an early age with his brother Nelson playing Cajun and country. A few years later he switched to rock and Cajun. His musical career ended in 1960 when he enlisted in the Navy. He and his band, The Rhythm Kings (rock&roll) recorded for J.D. Miller in the late 50s, but his music was never released until Bruce Bastin of Flywright Records of East Sussex, England marketed two albums produced in England in the 1980s with some of his songs. His musical career ended in 1960 when he enlisted in the U.S. Navy and worked in radio communications. After his military service he enrolled in broadcasting school in Atlanta, Ga. and worked at radio stations in North Carolina and Tennessee. He married Nadine Fay Keyton of Maryland in 1968. He was working at a radio station in Murphy North Carolina and she was teaching at a local elementary school. He returned to Louisiana in 1969 and worked as a salesman until 1982 when he was hired as bilingual director for French programs at Public Radio KRVS FM, University of Southwestern, (today, University of Louisiana at Lafayette) Lafayette, La. He did a Cajun music program titled, Voix de la Louisiane, sponsored by CODOFIL for WRNO World Wide, New Orleans which was selected as one of the Top 10 programs on World Band Radio in 1988. He joined the Cajun French Music Association in 1985 and served on the local board of the Acadiana Charter Chapter, Eunice, La., was elected to the state board. He served as president of the CFMA Lafayette Chapter for two terms. He is founder and first chairman of the Le Cajun Music Awards & Festival and served as chairman from 1988 to 1992. He was one of the designers of the Le Cajun award, wrote and produced the program and defined the award categories. It was awarded one of the top 20 events in the Southeastern United States in 1992. He designed a flag in 1987 representing the Creoles of Louisiana. It was adopted as the flag of the Creoles by C.R.E.O.L.E. Inc. and it became an official state flag in 1995.

Source: J.H. Bergeron.


---